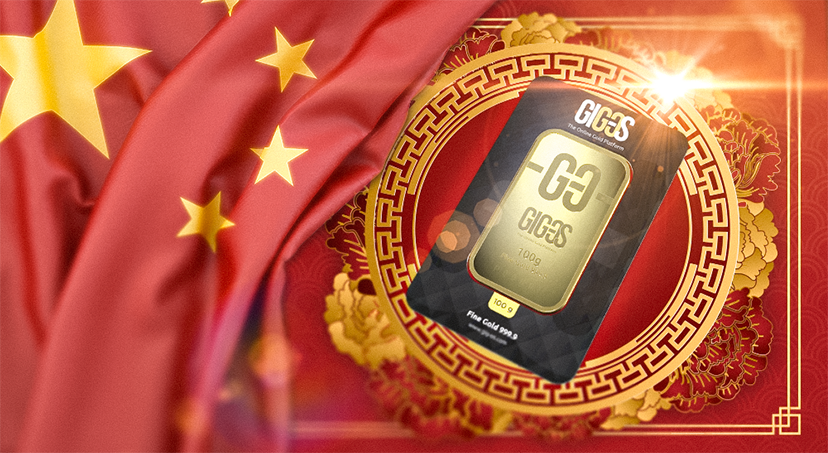 Average reading time — 2 minutes
The Chinese gold market has come a long way in a relatively short period of time. Less than 20 years ago, it was the third largest gold market in the world, accounting for only 6% of the global investment in gold bars. Today, the Chinese market of the yellow metal ranks first, accounting for about a third of global investments.
The Chinese are a very frugal nation. They got used to saving or investing nearly 36% of their income. Therefore, gold, as one of the most reliable assets for creating savings, remains in great demand in China.
The need to protect your finances
Despite China's economic strength and rapid technological development, the country's GDP* has dropped. Trade wars and the aftermath of the COVID-19 pandemic had a negative impact. Under these circumstances, the trust in gold keeps growing among the Chinese.
The World Gold Council* experts have conducted a survey among two thousand Chinese investors and found out the following:
72% of respondents have bought gold earlier and are going to buy it again;

24% of respondents have not purchased the yellow metal before, but are now considering purchasing it;

only 4% of respondents have no interest in gold.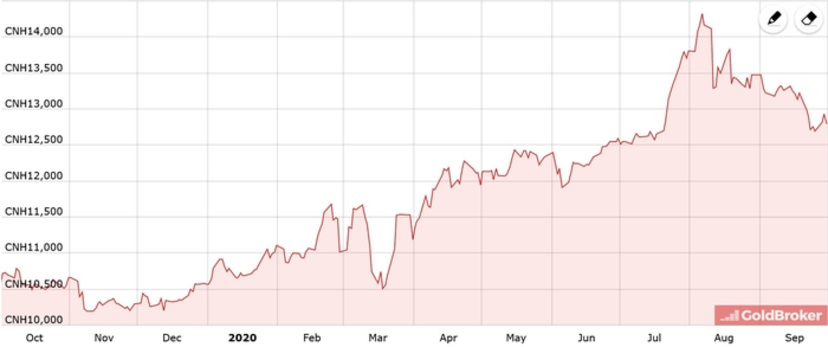 In the chart: the price of gold in Chinese yuan has risen by 21% over the past year.
Simplicity and confidence
Chinese investors are convinced that the yellow metal will protect their savings as well as accumulate them in the long run. The study found that the popularity of gold had been influenced by two key factors — simplicity and confidence.
Gold is extremely accessible today; it is easy to buy and sell. Its ability to save money from inflation breeds confidence, which is also reinforced by the fact that this resource is a real physical value in the hands of its owner.
As of October 2, 2020, the price of an ounce of gold is $1,915.
Close attention is riveted on gold wherever we look: in Egypt, Turkey, Nigeria, China. The importance and high demand of this unique tool of Financial Security are increasing rapidly in all parts of the planet.
Bearing this in mind, we have launched two projects that are taking the accessibility of gold to a whole new level.
Buy 100-gram bars, paying in parts when it is convenient for you, and get additional grams of gold as a gift.
Fix the cost of bars to avoid risks associated with market price fluctuations.
In difficult times, one can rely on time-tested values only.
Choose stability, peace and security.
Choose gold on the GIG-OS platform.
Glossary:
*GDP (Gross Domestic Product) — an economic indicator showing the total value of all goods and services produced in a country.
*The World Gold Council — the market development organization, founded by the world's leading gold producers to stimulate demand for gold.