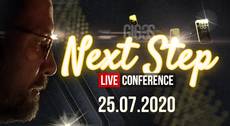 Our business is constantly developing. Every year we introduce innovations and adapt the business to the demands of the time.
The current situation in the world has led to the fact that today the issue of ensuring Financial Security has become especially relevant. Millions of people are looking for affordable and effective ways to protect themselves from the crisis and secure their financial standing. This means that the time has come to announce the latest projects that we have prepared for our entire global family.
On July 25, 2020
at the LIVE conference
"Next Step"
President Dmitriy Aksyonov
will announce two special projects that will increase the value of GIG-OS subscriptions for all users of the platform manifold.
Learn about the new favorable conditions that subscriptions provide. More options, more freedom of action and flexibility when buying investment gold — this is what awaits the owners of GIG-OS subscriptions.
We are ready to take the next step and expand the horizons.
Are you with us?
Then register for the global LIVE conference
"Next Step"