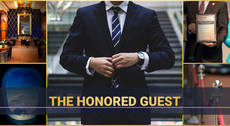 36 winners will attend the Global Convention 2019
as Honored Guests!
They will demonstrate their accomplishments to the whole world while being justly commended.
We receive positive reviews from clients of various nationalities, in which they explain what drives them to work towards the achievement of a special status at the conference.
The Honored Guest is not just a prestigious accolade. It's more than that. So, what exactly is it?
Solid proof of your leadership skills
"The Honored Guest is a person who has plenty of experience and is ready to share it. Such a person inspires others, setting a personal example of how one should overcome obstacles. This is a person who gets into the spirit of unity with Global InterGold. By rewarding a person with this status, a company recognizes his/her strong leadership potential, expressing gratitude for merits and personal contribution to our common cause."
Oleksandra Shandor (Ukraine)
It's a dream come true
"To become the Honored Guest means to fulfill a dream. This is one of the many goals that must be achieved together with Global InterGold. You will have a unique opportunity to meet with distinguished Leaders and successful personalities who have inspired thousands of people."
Jimmy Alberto Romero Marquez (Mexico)
Reward for diligent work
"For me, this is a testament that I have worked to the best of my abilities, trying to improve my results every day and helping people regardless of their race and social standing."
Maria De La Luz Espada Pantoja (Mexico)
New perspectives
"I can't wait to experience emotions that a meeting with like-minded people at such a significant event will bring up. This is a turning point in life, a chance to go beyond the realms of possibility and take your business to a whole new level."
Juan Felipe Castro Mejia (Colombia)
Indescribable feeling
"Words can hardly describe the significance of this status. It's an indescribable feeling to be the Honored Guest and represent one's own country at the event where clients from all corners of the world come together. This is a huge success that advances career development and a motivation boost to move forward with even greater ardour."
Federico Couto Burgos (Uruguay)
All of the above can soon become your reality. Any client can become the Honored Guest, regardless of experience in business, because every proactive and purposeful person is worthy of fame and respect.
Be the one who changes everything!
Join the competition and take action!