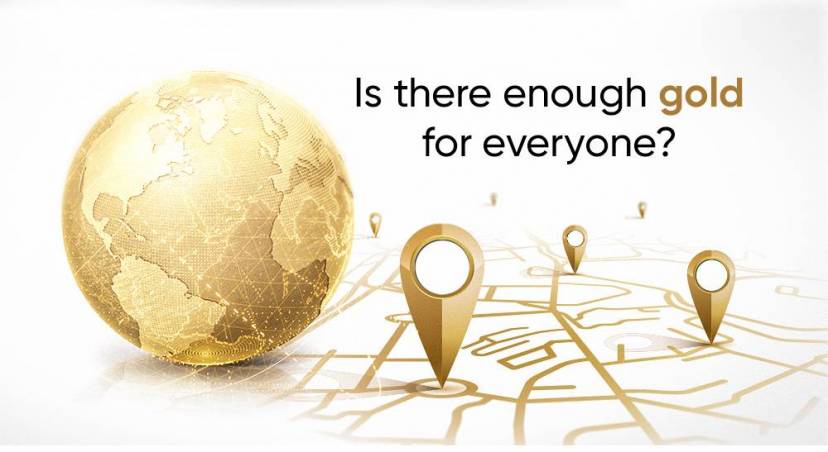 Gold is everywhere
Gold is mined on all continents except Antarctica. Geographic dispersion* ensures the stability of the precious metal mining and helps meeting the growing demand for it.
The gold market has undergone changes due to restrictions imposed by governments during the COVID-19 pandemic. The suspension of mining, processing and transportation of the valuable metal raised the already high investment demand for gold.
Experts at the World Gold Council note that dispersal has helped to protect primary reserves of the yellow metal from damaging consequences. China, South Africa and Peru have reduced the extraction of minerals, including gold. In other large mining regions, work has not been interrupted, hence the balance on the production of the valuable metal is maintained.
Stir
The fact that people began buying the yellow metal more actively and increasing their savings with the help of gold has boosted its price to an eight-year high.
As of June 8, 2020, the price of gold is $1698 per ounce.
YTD performance of typical reserve holdings

In 2020, global demand for gold has reached $55 billion — this is the highest figure since the second quarter of 2013.
During the pandemic, central banks continue to buy precious metal and build up reserves. Amid increased uncertainty, global gold reserves have risen by 145 tons.
Forecast
Joseph Foster, analyst and strategist at the world-renowned investment management firm VanEck, projects that due to systemic risk and the shock state of the economy, gold prices will skyrocket. The expert anticipates that the price per ounce will increase by $300, reaching $2,000.
The fact that the number of yellow metal deposits in the world is declining only fuels the demand for it. The existence of gold and the almost universal recognition of it as the most reliable asset are confirmed by the fact that this precious metal will help you protect your savings from risks and depreciation.
Gold is a reliable protection for you and your family!
Glossary:
Dispersion — from Latin "dispertio" — scatter, diffusion.