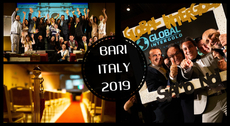 In May 2019, an international meeting organized by Global InterGold Leaders was held in southern Italy.
The conference addressed the most important issues on improving the quality of life and strengthening Financial Security. Distinguished speakers encouraged the attendees to support the environment, achieve goals and use effective tools for successful business development. Those who had already demonstrated their diligence and desire to build a better future for themselves and others gained global recognition. We want to show you the highlights of the event and what was done by the Leaders to organize it.
Check out how things went in Bari:



At the end of the conference, the participants went to the gala evening, keeping a conversation going in a more relaxed atmosphere. The festive dinner in Bari is not only an opportunity to take stock, but also entertainment, intellectual discussions with business partners, a spectacular and memorable vacation in a company of friends. The brightest moments will become fond memories that you can relive by watching the video.
Check out the highlights of the VIP dinner: