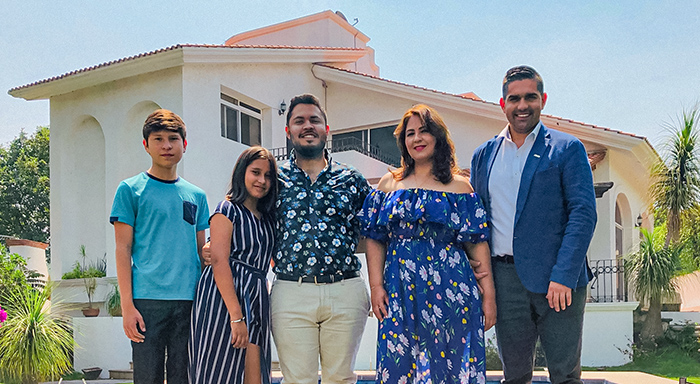 Do success stories inspire you? Have you heard of Steve Jobs, Elon Musk or Jim Carrey? Do you have any idea how they managed to survive against all odds before someone actually believed in them? Famous and successful people are not the only ones who deal with failures and setbacks.
In your surroundings, there are people who weren't afraid of facing challenges. Day after day, the Leader of Global InterGold Lucero Blásquez from Mexico tirelessly moved forward to completely transform her life and achieve goals.
Do you want to know her success story?
Lucero Blásquez admitted that five years ago she made the best decision in her life — started working with Global InterGold. Her friends discouraged her, her relatives were afraid that she would fail and tried to talk her out of it. If at that moment Lucero listened to what everyone was saying, ignoring her gut feeling, then nothing would have changed!
Today she got what she dreamed of: a happy family, a beautiful house and a car. However, the main thing for her is confidence, knowing that dreams always come true!
Lucero Blásquez posted an interesting video on Facebook. In our opinion, it is a must-see video with an important message that will help you rethink your life.
On disbelief and fears:
"A lot of people miss out on great opportunities because of doubts and fears: "What will people say?". "Don't be afraid! Global InterGold is the best business platform!"
Look at those who are beside you! Think about what your family needs at this very moment and go ahead for the sake of your loved ones and your own sake.
It is also very important to think big. It gets imprinted in your mind! Thinking of something great creates an unimaginably powerful force. If you wake up with positive energy, having the right vibrations, you attract all this into your life. Today we will show you how our dreams have materialized in this beautiful and cozy house."
The first lesson:
Forget about doubts and think about great things!
On the importance of making the right decision:
"You know, I saw many people who gave up halfway through the process. They allowed other people to interfere. Think about whether Global InterGold really helps you to realize your dreams. If your answer is "Yes!", then just make a decision and take action. Global InterGold is your personal financial engine, and the time has come to start up the engine.
If you are an employee or work for yourself, how long will it take for you to fulfill your dreams? Time is of the essence. Remember that time is the most valuable gift in the world. Now you probably ask yourself how much your time is really worth. You need to make smart decisions and strive to realize your dream!
As a rule, ask the Universe and you shall receive. The question is, do you stay true to your dreams?"
The second lesson:
Make the right decision!
On the importance of believing in yourself:
"Faith is the most important thing. Faith moves mountains. Faith will test you. If you do not see the road to your dream now, do not worry. I can tell you that you are on the right track, because we also went through this.
Five years ago, I said: "Five years will pass one way or another. Now it is the right time to start acting differently." Well, that's how it was. To those people who doubted me and my actions, I now want to say that you were wrong! I have visited over 33 countries of the world; I see how dreams turn into reality. Today I have not just a beautiful house, it is a place full of love, happiness and faith in God. This is the heritage that we will leave to our children.
An opportunity to be with my children all the time is a real blessing – the best thing that could happen to me. So thank you for telling me "No!" back then. You made me stronger and showed me that nothing is impossible."
The third lesson:
Thank those who say "no" to you.
On how dreams come true:
"I often asked people: "Who do you want to be? Will you have a dream car? Do you want to travel the world?"
"One hundred percent of people set such priorities in life. What did I do then? I helped those people realize dreams, focus on achieving economic independence, sharing my knowledge with them.
As of today, my dream has been fulfilled. What could be better? Now it is our common dream."
Luis García (husband of Lucero Blásquez):
"Our thoughts materialize thanks to the law of attraction. What could be better than doing business with your other half? Working together in our well-coordinated team made it possible to fulfill the dream of having our own house."
The fourth lesson:
Dreams come true when you help others!
According to the Leader from Mexico Lucero Blásquez, success is not determined by many years of experience in any field, but by the desire to move forward. Ask yourself: where will you be in five years? No one knows the answer except you. If you are not striving to achieve your goal, moving forward persistently and confidently, you will never know what you are capable of.
We are very inspired by the story of Lucero Blásquez. We are proud of every client's success, because it is truly important. Even the small achievements of each and every one of you make our international company stronger and more powerful.
We want more of such success stories!
Share in the comments how did your life change after you joined Global InterGold? Perhaps your success will inspire someone to take decisive action!