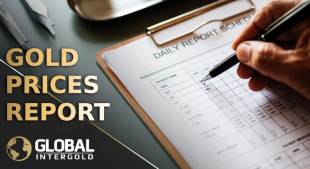 Having caused stock market turmoil, Brexit in the UK and the revision of Italian draft budget also became the key events to affect the cost of gold.
On Monday, October 22, gold maintained an upward trend. The cost of gold stopped at the $1,222 per ounce.
On Tuesday, October 23, the prices went up, the cost of gold increased by 1.1%.
Commerzbank analyst Carsten Fritsch notes that the precarious state of Italy along with the uncertainty resulting from the trade war are the main reasons for the rise in gold prices. Commerzbank forecast: $1,250 per ounce.
Mujtaba Rahman, an analyst of Eurasia Group in London, believes that the European Commission has the right to reject the draft budget:
"Both the substance of the government's proposals and the way they are communicated are a big headache."
On Tuesday, against the background of deteriorating relations between Italy and the EU, an ounce of gold cost $1,230.
On Wednesday, October 24, the level of gold prices was maintained by the European Commission's refusal to compromise. Italy must come up with a new draft budget in three weeks', ruling out extra spending on social programs. Deputy Prime Minister Luigi Di Maio said that Italy would follow the course that had been initiated earlier. If the government does not revise the budget, Italy will face sanctions.
Against the background of an unstable situation, gold was once again regarded by investors as a safe haven.
Analysts of Standard Bank do not preclude the possibility of gold approaching the $1,300 per ounce mark.
On Wednesday, the cost of the yellow metal was $1,233 per ounce.
On Thursday, October 25, the next meeting of the European Central Bank was held. The ECB's decided not to raise interest rates until the end of the summer of 2019. Previously, experts predicted that rates would remain at zero-level due to the turbulent geopolitical situation in Italy and the UK.
On Thursday, an ounce of gold cost $1,232.
On Friday, October 26, gold continued its growth.
Capital Economics analysts stated in their macroeconomic forecasts that gold would retain strong positions in the future.
"The price of gold will increase further, stimulating the growing demand for the metal."
Capital Economics experts conclude that gold will reach $1,400 per ounce by the end of 2020.
On Friday the cost of an ounce of gold was $1,233.
On Monday, October 29, gold cost $1,233 per ounce.
In this year's October, gold rose by 3% and the Dow Jones Industrial Average fell by 6%.
Preserve and accumulate your gold reserves!
Global InterGold — a business platform where our clients and partners, owners of gold trading business, cooperate and interact.