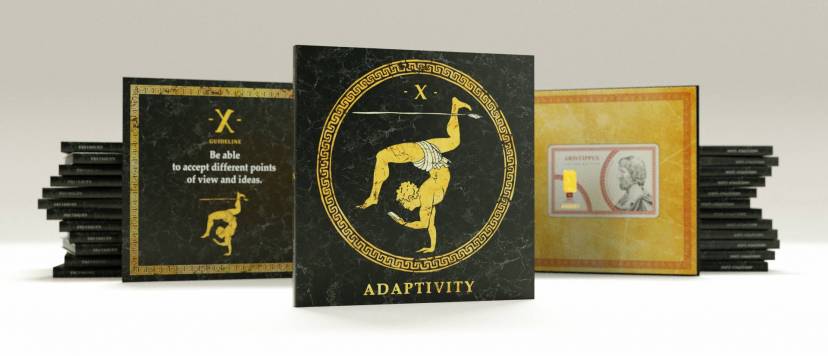 The stocks of our online gold shop are replenished!
A new gold bar from the exclusive collection "Aristippus' Gold" with the X guideline of the great ancient Greek sage is already on sale:
Guideline X — "ADAPTIVITY"
Be flexible and able to change in response to new life circumstances.
Adaptivity includes in itself the ability to be independent in thoughts and actions, to show flexibility towards life changes, the skill to act effectively in certain conditions.
The behavior of a person must correspond to the emotional, informational and cultural levels of the surrounding environment in order to run a successful business. A person should strive for balance in relations with partners, be able to accept the current situation and new circumstances.
Let us take a life example.
Scientific progress does not stand still. Every year, new effective technologies emerge that can simplify the work process. Robots replace human labor, which results in the reduction of costs. Representatives of various professions that used manual labor way earlier, are quite often not ready to accept such changes.
An example of this can be the assembly of cars in large enterprises. People find it difficult to adapt to new advanced devices, they experience difficulties in its usage. They are accustomed to work in the old-fashioned way — when everything is done manually. Now many processes are controlled by computers and special programs. Computerized technology does everything by itself, reducing manual labor to a minimum.
In order to remain in demand in their profession, it is necessary to adapt to new working conditions and new technologies. It is important for the employee to have internal flexibility, be ready to learn new things and get the necessary knowledge to work with modern equipment.
Do not miss your chance to win the X gold bar
You can take part in the contest on the official Facebook page of Global InterGold.
Marissa Tolon was lucky enough to win the IX gold bar.
Participate and win!
The next gold bar that will go on sale: THE XI GUIDELINE OF ARISTIPPUS — "INDEPENDENCE."
The giveaway of precious prizes runs EVERY MONDAY!
Take part in the contest! Good luck!