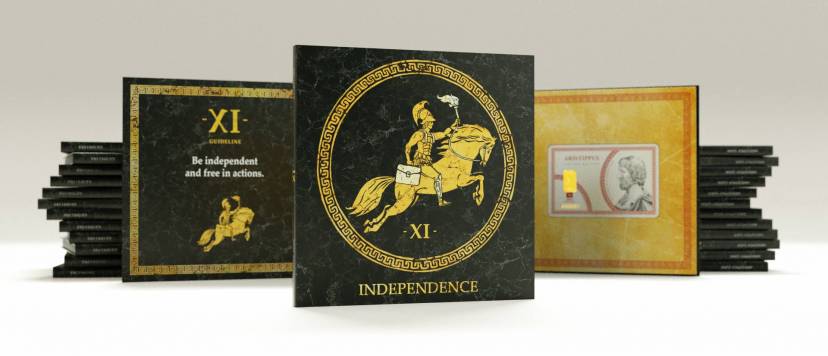 The stocks of our online gold shop are replenished!
A new gold bar from the exclusive collection "Aristippus' Gold" with the XI guideline of the ancient Greek philosopher is already on sale:
Guideline XI — "INDEPENDENCE"
Be independent and free in actions.
Independence is the human right to lead one's own life, to be free from the judgment and judgments of others. It is necessary to have self-confidence and be able to defend your point of view.
It is important for a person not to be manipulated by other people and to remain free in actions.
Being independent means giving as much as receiving, without leaving your debts unpaid. When you have debt obligations, you lose your independence. The one to whom you owe has authority over you and deprives you of your freedom.
Let us take a life example.
To better understand what independence really means, let's find out what it means to be dependent on another person.
John and Jane are cousins. Jane is doing repairs in her apartment. She did not have enough of her own savings to finish the makeover. She borrowed some money from her relative John, and he gave her the necessary amount. Jane's salary is not large, so she does not have the opportunity to repay John the entire amount all at once. She gradually saves money in order to cover her debt. John exerts moral pressure on Jane, constantly reminding her of her unpaid debt. He asks her to pay the money back as soon as possible. Jane cannot change the situation and is now under stress because of the unpaid debt.
According to the XII guideline of the ancient Greek philosopher Aristippus, by being in debt to another person you deprive yourself of independence and freedom of action. Jane made a hasty decision by borrowing too much money from John, the sum which cannot be repaid on time. She did not consider her financial capabilities for paying off the debt and now she feels entirely dependent on John.
You have the chance to win the XI gold bar
Take part in the contest on the official Facebook page of Global InterGold.
Mila Fukui from Japan was lucky enough to win the X gold bar.
May the odds be ever in your favor!
The next gold bar that will go on sale: THE XII GUIDELINE OF ARISTIPPUS — "CREATIVITY."
The giveaway of a prize runs EVERY MONDAY!
Take part in the contest and win! We wish you victory!