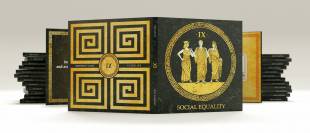 The stocks of our online gold shop are replenished!
A new gold bar from the unique collection "Aristippus' Gold" with the IX guideline of the ancient Greek philosopher is on sale.
Guideline IX — "SOCIAL EQUALITY"
Be on equal footing with other people and avoid emphasizing differences in social status.
Important principles of successful business relationships are: a pursuit of compromise and a respect for business partners regardless of their position in society and the income level.
Let's take a life example.
Jane has been working in the company for many years and holds a senior position. Recently, a new employee John started working under supervision of Jane. Jane expressed a disdainful attitude towards John, thinking of him as an inexperienced worker. She repeatedly emphasized the differences in their social status. As a result, John struggled to work because he did not get proper support.
If Jane showed John her respect, trying to communicate with him on an equal footing, it would have been easier to succeed. According to the IX guideline of Aristippus, Jane should seek agreement without building up communication barriers with her subordinate. John should exhibit personal qualities of perseverance and competence.
You have a chance to win an exclusive IX gold bar
Take part in the contest on the official Facebook page of Global InterGold.
Carlos Jose Ramos Soraca from Colombia was lucky enough to win the VIII gold bar.
The next gold bar that will go on sale soon: THE X GUIDELINE OF ARISTIPPUS — "ADAPTIVITY."
The giveaway of precious prizes runs EVERY MONDAY!
Hurry up to participate! Good luck!