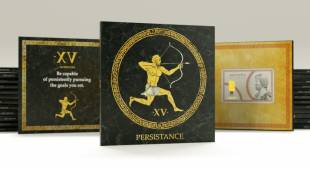 Guideline XV of the ancient Greek philosopher Aristippus states:
Be capable of persistently pursuing the goals you set.
Persistence is determination and perseverance towards the goals set, the ability to continue to act, even if one must deal with a conflict.
A persistent person is not discouraged in case of a failure but seeks new ways to achieve what he/she has planned. To achieve the goals effectively, you must take responsibility for your actions, not be afraid of difficult tasks and meet the agreed terms of work. It is important not to withhold information from people with whom you interact.
Everyone has the right to express their thoughts. Honesty and openness will help to interact productively with business partners or colleagues, reach a compromise quickly and find the best solution for the task.
Let us take a life example.
When in the early 1930s, the American inventor and industrialist Henry Ford decided to manufacture the Ford V8 car, he needed a powerful engine that combined eight cylinders into one block. He instructed his engineers to develop and assemble such an engine. All experts agreed that it is impossible to combine eight cylinders together.
Ford's order was unequivocal: "Work relentlessly, spare no effort and time until a positive result is achieved." The owner of the factory was aimed at success and believed that they would be able to assemble the right engine. Over six months of work, engineers could not invent it. They tried again and again. Six months later, the experts told the boss that they would not be able to realize his idea. Ford was adamant and ordered them to continue their work. He himself worked on the sketches of the motor, developing its design. In the end, Ford's strong-willed character's qualities led the team to success — a revolutionary engine, later called a miracle of engineering, was invented.
In the photo: Ford and the first legendary V8 engine.
Henry Ford went onwards to victory with confidence and knew exactly what he wanted to achieve. He showed persistence and overcame difficulties that seemed insurmountable.
The stocks of our online gold shop are replenished!
A new gold bar from the exclusive collection "Aristippus' Gold" with the XV guideline of the philosopher Aristippus of Cyrene is now on sale:
Guideline XV — "PERSISTENCE"
Be capable of persistently pursuing the goals you set.
You have a chance to win the XV gold bar
"PERSISTENCE"!
Vincenzo Russo from Italy was lucky enough to win the XIV gold bar.
May luck be on your side!
The next gold bar that will go on sale: THE XVI GUIDELINE OF ARISTIPPUS — "DILIGENCE."
The giveaway of a prize runs EVERY MONDAY!
Hurry up and join the contest! We wish you luck!