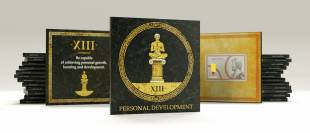 Guideline XIII of the ancient Greek philosopher Aristippus:
Be capable of achieving personal growth, learning and development.
Personal development is the process of gaining a variety of experiences, fulfilling potential opportunities that are inherent in the human nature.
An individual with a high degree of personal development has more interests, desires and motivation to move towards achieving goals. Such an individual is able to manage one's life and cope with difficulties much easier. He/she can take a lead, is not afraid of responsibility, can take care of others and is ready to compromise for the sake of the common good.
Personal development creates and maintains a person's interest in various areas of life and professional activity. The basis of a personal growth lies in learning, in the desire to acquire new knowledge and skills.
Let us take a life example.
Let's talk about the personal development on the example of Bill Gates — the owner and founder of Microsoft, the world's largest PC software manufacturing corporation.
As a child, Gates was not interested in playing with his peers, he was very shy and socially awkward. Psychologists saw the strong character of a self-confident person behind his outward passivity. They suggested his parents to accept their son just as he was, advised to support him in all his undertakings and allow him to flourish.
Bill trained his memory, intensely focusing on mathematics and logic. He studied with pleasure and was eager to know more. His parents sent him to a private school, where his abilities were shown in the best possible way.
Gates got accepted into Harvard, where he continued his personal growth, which helped him achieve his goals. While at the university, he told one of his professors that by the age of 30 he would become a millionaire.
Bill developed his first computer program at age of 13. At the age of 17, he developed a software package for the Bonneville dam. At the age of 20, the computer genius wrote the Basic programming language and founded Microsoft. At 24, he created an operating system for the world's first PC.
In 1986, when Bill Gates was 31, shares of Microsoft went public on the stock exchange, and he became a billionaire.
Active personal growth that occurred by the initiative of Gates, led him to the highest achievements in his career. He independently chose his life path, acquired the necessary knowledge and experience, learned how to act effectively to achieve the set goals. Owing to personal development, Bill Gates became one of the greatest people of our time.
The stocks of our online gold shop are replenished!
A new gold bar from the collection "Aristippus' Gold" with the XIII guideline of the philosopher Aristippus of Cyrene is on sale:
Guideline XIII — "PERSONAL DEVELOPMENT"
Be capable of achieving personal growth, learning and development.
You have a chance to win the XIII gold bar
"PERSONAL DEVELOPMENT"
You can take part in the contest on the official Instagram page of Global InterGold.
Antholitz M Calica from the Philippines was lucky enough to win the XII gold bar.
May luck be on your side!
The next gold bar that will go on sale: THE XIV GUIDELINE OF ARISTIPPUS — "EXPERIMENTALISM."
The giveaway of a prize runs EVERY MONDAY!
Take part in our contest! Good luck!