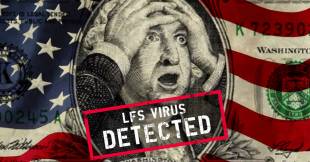 We tell about the biggest debtor countries and how the LFS virus spreads around the world.
In this world, turns out that almost everyone is indebted to someone. Borrowers and lenders are intricately linked with debt obligations. United States are ranked first among debtor nations. America owes money to 34 countries worldwide. Almost every American citizen is in arrears, owing 63 thousand dollars. Since the beginning of 2018, financial commitments of the world's largest and most powerful state amounted to more than $20,6 trillion dollars.
The global external debt continually rises:
2015 — $59.7 trillion dollars
2016 — $152 trillion dollars
2017 — $217 trillion dollars
2018 — $233 trillion dollars
Researchers of the Institute of International Finance (IIF) indicate that some countries are reducing their debt thresholds, while the debt indicator of others has only been increasing. At this point, the process is in a precarious state and uneven in nature.
Any amount of debt reflects the state of the country's national economy, its budget, resulting in both economic and political dependency. Over the years, many countries do not pay off their debts. As the result of these difficulties, entire countries find themselves stuck in the debt hole. Because of their inability to pay off the debt and use money effectively, world leaders get sucked into debt and are forced to take new loans.
TOP 5 Biggest Debtor Countries:
As you can see, the ranking of debtors is composed of the most developed countries.
Most people and their families don't feel stability in this world. Governments try to avoid the onset of the crisis.
People feel insecure living in debtor countries.
A citizen of the debtor country experiences stress over a prolonged period of time. Constant tension causes irritations and restlessness. The lack of information and overall instability hinders the long-term planning process. A load of responsibilities leads not only to irritability, but to isolation. Debts, loans, bankruptcy, job loss impairs one's ability to survive. This leads to exhaustion, depression, it all triggers professional burnout, anger and aggression.
The presence of debts — is the main indicator of the LFS virus (The Lack of Financial Security).
Experts of the global banking sector have listed the TOP 5 countries free of external debt.
| | |
| --- | --- |
| Country | External debt (in US dollars) |
| Brunei | 0 |
| Macau | 0 |
| Liechtenstein | 0 |
| Niue | 0 |
| Andorra | 0 |
Evidence suggests that only a handful of countries in the world are not infected with the LFS virus. In most countries, the LFS button is already activated.
How to get rid of the virus? Is it even possible?
Financial Security can't be achieved on one's own, only in a group of like-minded people. The basic knowledge of money laws can help in fixing your income and expenses. When the root of the problem is determined, one can easily cope with difficulties.
Global InterGold knows how to eliminate the virus of the "Lack of Financial Security" and get rid of anxiety.
By applying the knowledge about Financial Security,
a person preserves and increases capital.