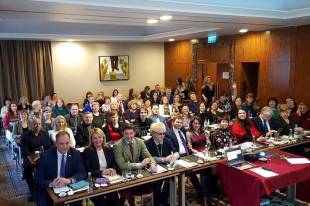 Learn insights from the Global InterGold leader's discussion.
On the 17th of February 2018, a seminar was held at the "InterContinental" hotel in the capital of Russia, devoted to the financial security strengthening with gold.
Participants of the event were leaders of the Global InterGold company: Julia Beikina, Mihail Ukvasov, Gevork Dzhlavyan, Peter Coachman, Alex Timokhin.
Within the framework of the seminar speakers talked about the role of Global InterGold in the modern business field. Truthfully, everyone of us thinks of future plans and wants to build a solid foundation for our families. Security and reliability - were two main topics that got best responses from the attendees.
In the framework of the meeting, the COMPANY'S PRIMARY GOAL was announced:
THE ACHIEVEMENT OF FINANCIAL SECURITY, CREATION OF THE BETTER WORLD
AND IMPROVEMENT OF THE QUALITY OF LIFE FOR OUR CLIENTS.
The main objective of the organizers was to pass on the important knowledge about the possibilities of cooperation with Global InterGold to the participants of the seminar. The leaders took part in the briefing and answered all the important questions that arose during the meeting.
By the end of the event, it was emphasized that the company does not stand still, it is constantly developing, performing global research on clients, prospect financial markets, as well as the whole world.