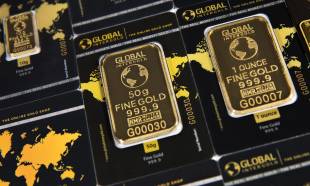 Gold VS Bicoin: all details in our report.
On Tuesday 12th, investors' attention was drawn to the expanded meeting of the Open Market Committee of the Federal Reserve. Trading was drawn back due to expectations of forecasts for 2018. Japan and the European Union agreed to create an economic zone that would open trade opportunities for 28 countries.
Prime Minister of Japan Shinzo Abe:
"Japan and the EU will join hands and build a free, fair and rule-based economic zone, which will be a model of an economic order in the international community in the 21st century."
A gold ounce was worth $1,244 on Tuesday.
On Wednesday 13th, the dollar declined. The fall in the US currency was exerted by the results of the elections to the Senate in Alabama and Democrat Doug Jones coming to power. The very fact that the Democrats win over the Republicans can complicate the process of adopting a tax reform.
Against the background of the dollar's drop, gold rallied and reached $1,255.
On Thursday 14th, the market discussed the outcome of the Committee's meeting on the open market of the Federal Reserve System (FOMC). As predicted by experts, the rates raised from 1.25 to 1.5%, which is the third increase in 2017. In 2018, it is also planned to raise rates three times.
Economist at RENAISSANCE CAPITAL bank Charles Robertson:
"The markets have already put in their prices a Fed's rate hike."
Gold prices got to the level of $1,253.
On Friday 15th, the market was influenced by the final meeting of the ECB. During the meeting, the Governing Council announced that the rates would be maintained for a long time.
ECB President Mario Draghi claimed about the subsequent economic growth and said that the regulator should be "patient about the normalization of monetary policy."
Gold prices stopped at $1,255.
On Monday 18th, the dollar strengthened its position after Republican efforts on the US tax system. During the negotiations in the House of Representatives of the Senate, an agreement was reached to stop sharp actions and start a reasonable revision of taxes. Voting will take place this week, but many investors are cautious about the final decision of the issue.
At the beginning of the week, the price of gold was $1,256 per ounce.
Goldman Sachs investment bank explained the advantages of gold compared with the crypto currency. According to analysts, "there is no noticeable outflow of gold" from exchange-traded funds. Gold reserves on the stock exchange are now at their peak compared to 2013. Specialists emphasize that gold and the crypto currency have absolutely different values in the market. Goldman noted that bitcoin attracted "more speculative inflows than gold." In relation to the above facts, investors working with gold for a long time will keep their favor to the precious metal.
Follow experts' forecasts and strengthen your financial security