Client reviews on Global InterGold in Argentina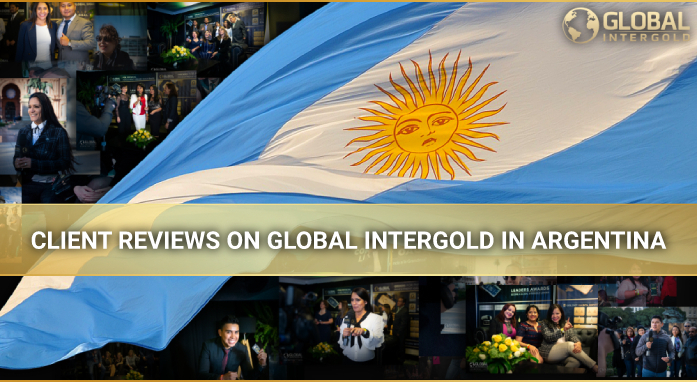 On June 1-2, 2019, a conference organized by Global InterGold Leaders was held in the capital of Argentina, Buenos Aires.
For the first time ever, the Leaders arranged such a large-scale event that was attended by a record number of guests. Motivational success stories were told, the clients shared their business experience.
This event has proven that Global InterGold business knows no bounds. Conference participants from different countries have proven that determination and self-confidence do wonders.
We would like to share the views of our clients, those who succeeded in making their dreams come true:
Client reviews on Global InterGold
Why I've chosen gold business
"This is a company that has given me an opportunity to make a fortune for me and my family, helping many people to start fulfilling their dreams."
Gold is wealth, freedom and security
"We are pleased to be in Argentina at one of the largest conferences of the company. And you know what we're here for? We are here to change our lives, our mindset, to achieve the highest level in this company."
Now is the best time for change
"We are glad that we are here, interacting with our friends and families. The best is yet to come! The company is constantly expanding, the best time is nearing, and you must become a part of these changes. You won't find such an opportunity elsewhere."
The company has changed my lifestyle
"I am a client of Global InterGold, a company that changes my life and gives me everything I've been looking for. This is indeed a great opportunity to move forward."
An incredible experience worth trying
"We are in Buenos Aires at the conference "From Excellence to Greatness." Today is a wonderful day when we can share experiences with team members from around the world."
The world is changing, creating new opportunities.
"The economy has changed, our world is changing very rapidly, and the ways to make money have also changed. Nevertheless, we often continue to work eight hours a day, deprived of freedom, feeling trapped, rather than spending more quality time with family and friends."
In today's world, a happy and carefree life is impossible without achieving Financial Security. People who had realized that were able to radically change their destiny. Everyone can walk the same path — one only needs to set a goal and take the first step.
ON THE IMPORTANCE OF FINANCIAL SECURITY